Is your marketing getting results?
There are a thousand ways to "get exposure", but most cost money up front and don't guarantee that you will actually get what you want - new clients. You can spend hundreds, or even thousands, of dollars on a website, only to learn through experience that it takes months and a lot of work to get even a small amount of traffic. Buying advertising can be a similarly frustrating experience; it is hard, even in hindsight, to see if the money was well spent. Are you tired of spending time and marketing dollars on efforts that aren't trackable and don't guarantee results?
There has got to be a better way.
We can help you grow your business
We do the marketing for you
You tell us your service area and what types of prospects you're looking for, we help you set up a company profile, and then we market it all over the internet. We know how to find the property owners you're looking for through organic and paid search engine traffic, online communities and social media campaigns.

Pay for performance, only when we send you leads
Our clients only pay us when we send them qualified property management leads. There are no upfront or monthly fees. We will bring new business to your door, or you pay us nothing.
Of course, we can't guarantee that every lead will work out, but we can and do make sure that you only pay for leads from qualified prospects with properties or associations that you want to manage. On average, our clients are able to close 1 in 4 of our leads, so they buy about 4 leads for every signed contract. Once you know your closing rate, it's easy to determine how much each new client will cost you, and find out if it is worth the money.
No contracts, no upfront fees, no risk. We're here to see you succeed.
We're committed to becoming the number one portal for property owners
Property Management Hiring Guide
Choosing a property manager is a big step and owners are looking for guidance in how to navigate through the process. Our in depth hiring guide has fast become a popular resource for owners with questions about what to look for and how to interview a property management company.
Basics of Property Management
Should You Hire a Property Management Company?
Property Management Services - A Complete List
Benefits of Hiring a Property Management Company
What to Look For in a Property Management Company
Property Management Fees - Part 2
Handling Tenant and Owner Funds
Setting and Collecting Rent
Property Maintenance and Repairs
Property Inspections
Tenant Marketing and Retention
Tenant Screening
Examining the Organization - Background, Qualifications, Portfolio
Examining the Organization - Size, Staff, Customer Service
What to Look For in a Property Management Contract
Responsibilities and Representations
Contract Termination
Indemnification and Boilerplate Items
Property managers comment on the Hiring Guide:

Really good post and very informative as well. This will hopefully lead to them listing with an agent when they find the difficulty of going alone.
-
Charles Stallions, Stallions Realty Services

All very good articles. Thank you for making the case for us managers.
-
Leslie Prest, Prest Realty

Great post Mr. Muela. It's good to see a professional that knows and understands the process of the PM business.
-
Demetrius Steptoe, Golden Palace Investments

Thank you for this post. I have emailed this to our property manager to use with prospective clients. It will help her in her campaign.
-
Nancy Deichman, Re/Max Premier Realty

Jordan, this is an excellent primer to offer to owners seeking property management.... It's well written.
-
Diane Rice, Rice Prpty Mgmt & Rlty
Local housing & rental market information
For hundreds of cities across the nation, we've compiled a series of useful charts and graphs with information pertinent to the local property management market. Property owners have found them useful, alongside the directory of local management companies which also appears on the same page.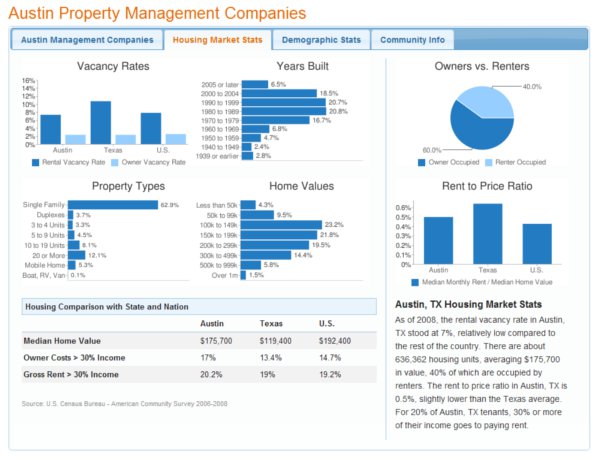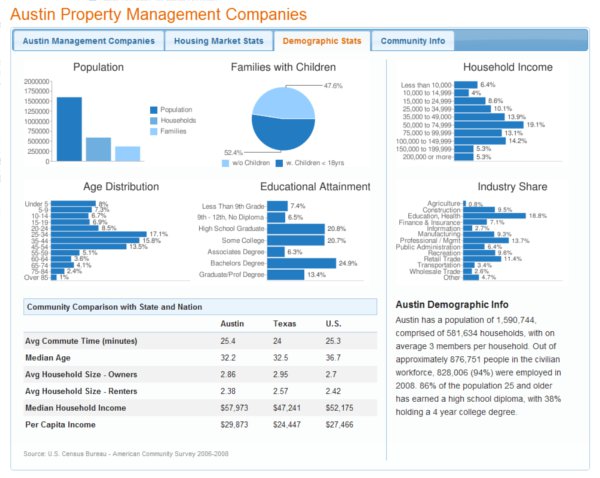 Each city page (i.e. San Francisco, or Sacramento) on their site contains 1) housing market stats, 2) demographic information, 3) community information, and of course relevant, active, and accredited property managers in your area gracefully laid out and easy to read.
-
Gary Egan, CEO, Property Management Network
How well does it work?
Our lead flow is strong and growing, nationwide
Most popular cities by search volume:
Atlanta
Austin
Chesapeake
Chicago
Dallas

Denver
Houston
Indianapolis
Los Angeles
Minneapolis

New York
Phoenix
Portland
Sacramento
San Antonio

San Diego
San Francisco
Seattle
Virginia Beach
Washington D.C.
Every day we're helping more property managers grow their businesses
We would love to help your company succeed. Check out our prices and lead types. We're pretty confident you won't find a more cost effective way to advertise your company online.
Can we offer one last friendly suggestion? Sign up before your competitors do.
Completely Pay-For-Performance
No Contract or Up-Front Fees