Green Keys Property Management LLC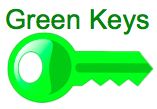 Green Keys Property Management LLC
Green Keys is a well-run property management company serving greater Portland, Oregon. We offer lower management fees than larger firms. "Green" is for our focus on sustainability. "Keys" reflects our belief in maintaining positive relationships with tenants, starting when we hand over the keys.
Company Description
Are you having trouble collecting rent? Tired of dealing with late-night phone calls? Frustrated by a bad tenant experience? Property management is not for everyone. If you want rental income without the hassles and stress of managing it, place your property under the reliable care of Green Keys, a locally owned, investor-friendly company that treats tenants with kindness, empathy and respect.
Green Keys charges a management fee of only 7.8%. The rate is even lower if you have more than 1 unit. The more units you have, the lower the rate. This fee includes rent collection, accounting and bookkeeping services, tenant communications, maintenance task coordination, official notices to tenants, and more.
If you want Green Keys to fill a vacancy, we'll advertise your rental on all the top search engines used by renters, show it to prospective applicants, process applications, select the best tenants based on fair and pre-determined screening criteria, draw up the lease, collect the security deposit and first month's rent, take "before" photos, and complete the move-in checklist. All this for one low price of $580. (Most other companies charge up to 50% of the first month's rent.)
See our website for a detailed price list detailing all the services we offer. Just click on the "For Owners" tab.
Green Keys is powered by Buildium property management software. Buildium's mobile app makes it easy to check the status of leases, tenants and rent payments on the go. Buildium stores property data, tenant information, scanned leases, and payment histories. Its resident site allows tenants to complete and submit rental applications online and to pay rent through an online portal. It enables Green Keys to keep tabs on rental income, maintenance requests, and lease expiration dates. With Buildium, Green Keys can generate owner statements and financial reports that are complete and accurate. Owners log into their owner's portal to view income, expenses and receipts.
With every tenant turnover, we improve the energy efficiency of your rental unit by installing LED light bulbs, sealing gaps and cracks, and, when appropriate, suggesting other energy-saving improvements.
Quick Facts
In business under this name: 8 years
Company size: 1 to 5 employees (full time)
We manage the following property types:

Single Home or Condo ($250 to $500k)
Single Home or Condo ($500k to $1 Mil.)
Single Home or Condo (Over $1 Mil.)
Multi-Family (2-4 units)
Multi-Family (5-19 units)
Multi-Family (20-99 units)

We manage properties in: